Is the Answer4u Virtual Receptionist Service the right choice for you?
Take a look below or call us on 0800 822 3344 to ask our team.
Answer4u Virtual Receptionist Services
With Answer4u's Virtual Receptionist Service a professional receptionist will answer all business calls in your company name, and then gathers the caller information that matters to you:
Their name
Their company name
Their contact number
A brief reason for their call
This information is immediately stored in your online client portal for you to access at any time but can also be sent to a specified email address or sent by text message if preferred.
This ensures your customers are always answered by a friendly voice rather than going to voicemail.
How The Virtual Receptionist Service Works
Why Choose Our Virtual Receptionist Service?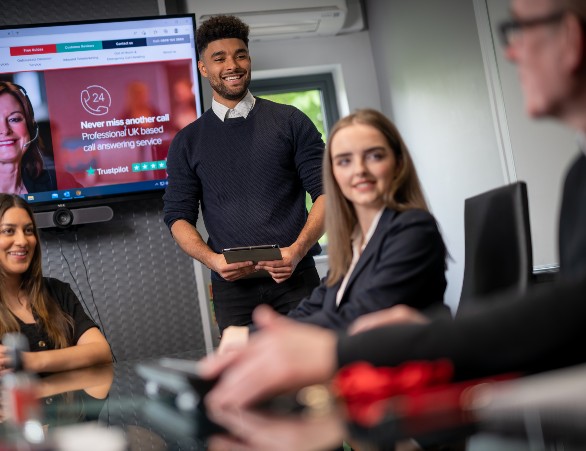 Provides a cost effective, first class front of house function for all your callers
Improved efficiency from knowledgeable, experienced call handlers
Happier customers through personalised responsive service
Save additional time through effective call filtering, allowing you to prioritise customer call-backs
Can be live within a matter of minutes
How Much Does The Virtual Receptionist Service Cost?
Our Virtual Receptionist Service requires very little financial commitment upfront so it's perfect for your cash flow.
Putting it simply, this service is the ideal solution for small business owners who just want a fast setup.
There's no contractual obligation and you receive on-going support from a dedicated account manager.
Only £1.30p per call
£14.50 monthly subscription
All messages delivered to your online client portal in real-time free of charge
Email Messages – £0.08p per message, SMS Messages - £0.15p per receiving number
We'll answer your calls quickly and efficiently
No long-term contracts
Virtual Receptionist Service Call Bundles
With Answer4u's Virtual Receptionist Service calls are even cheaper with our ever popular call bundles. All messages delivered via SMS / Email are completely FREE and you'll have the peace of mind of knowing exactly what you'll pay each month for your anticipated call volumes. As an added bonus, we'll also give you the flexibility to vary your bundle once per billing cycle to make sure your service always remains cost effective.
| Call Bundle | Included calls per month | Monthly charge | Email / SMS Message Delivery | Saving up to* | Excess Calls (Outside of Bundle) |
| --- | --- | --- | --- | --- | --- |
| Receptionist 25 | 25 | £44.25 | FREE | £8.50 | £1.80 |
| Receptionist 50 | 50 | £76.00 | FREE | £15.00 | £1.60 |
| Receptionist 75 | 75 | £106.50 | FREE | £22.75 | £1.50 |
| Receptionist 100 | 100 | £140.00 | FREE | £27.50 | £1.40 |
| Receptionist 200 | 200 | £254.00 | FREE | £66.50 | £1.30 |
*Based on equivalent number of calls answered if not signed up for a bundle and receiving a text and email message alert
Is the Answer4u Virtual Receptionist Service
the right choice for you?
Take a look below or call us on 0800 822 3344 to ask our team.
Peace Of Mind With A Free Trial Period
So you can get a true reflection of the cost effectiveness and efficiency of our Virtual Receptionist Service we offer a free trial period of up to 30 days.
If you would like to sign up the process is extremely simple and quick just call our team on 0800 822 3344 to get started. For more information and full terms and conditions of our free trial please visit our free trial terms and conditions.
Don't forget, you can tailor our services for a comprehensive bespoke call handling service solution.
Providing the best Virtual Reception Service
We know many callers prefer to speak to a friendly, professional person who can answer their immediate queries, resolve their concerns and take a message.
Answer4u's team of trained telephonists are there to provide your company with the experienced, professional and informed service they need.
And while your customers are being taken care of, you can focus on making your business grow without worrying about missed calls.
Quick set up and live in minutes
Extremely quick to be set
Live within a matter of minutes
Your diverted number sent to you
Immediate notifications & updates
Complete access to client portal
Perfect for start-up businesses
Peace of mind and free to trial
A variety of number types
Divert your own number
Area code for geographic use
0800 numbers available
We offer a free 30 day trial period
Extremely simple and quick to set up
For your convenience – A4u-Anytime, Online Client Portal
Our Virtual Receptionist Service gives you access to our online Client Portal, A4u-Anytime. This is a fantastic tool which allows you to manage your account 24/7 meaning that we are always up-to-date with your latest business information.
A4u-Anytime contains a number of key features including, unlimited script changes, a log of all historic messages, additional call statistic reporting and much more.
Take a look at questions we get asked frequently
Looking for a little help to find what you require?
Call 0800 822 3344 or email us via the button below